This is a very cool night club on the main drag in Palm Springs. Fomerly owned by Kal David. The hottest club, maybe the only club in the desert. Pictured below is the Blue Guitar house band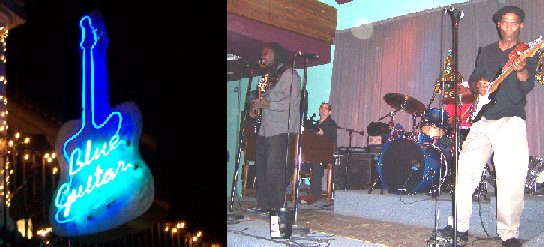 Formerly Palm Springs,
California:
Kal David
Kal David And The Real Deal. This band of well credentialed musicians, gave up touring to open the Blue Guitar nightclub in Palm Springs. Kal sold the night club, and I don't know where he performs now, but if you get a chance to see him, he puts on a good show.


Southern California
The Duo-Tones
This is fantasic stuff!! Surf guitar pioneer, Paul Johnson (currently with the Surfaris ("Wipeout")),
and Gil Orr of the Chantays ("Pipeline"), together play "surf" hits sans bass and drums, and sometimes acoustic!
And, as is the case with all the musicians here, really friendly guys, very approachable.
Of course it's also very cool if you get to see these guys perform with the Surfaris and the Chantays.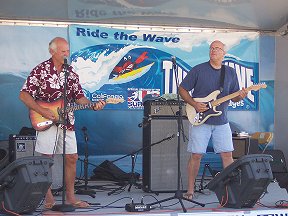 The Sound Waves
Classic 60's Surf Music played by guys that played it in high school when it was new.
Check out the video of me playing with them, above on this page.


The Surf Rockets
Another terrific Southern California Surf (and more) band, and friends of mine, that occasionally lets me play with them :-)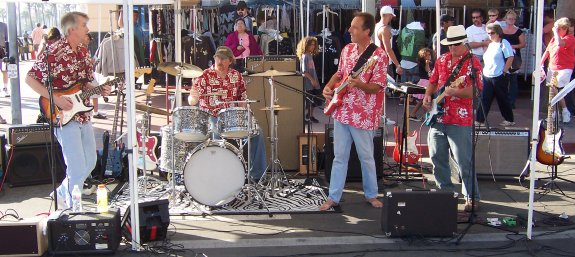 Southern California and Beyond
Dick Dale
The King of the Surf Guitar! Not strictly a local performer, but I've seen him perform locally several times. Dick lives here in Southern California but performs internationally. He's truly a living legend. Don't pass up a chance to see him if he performs in a city near you. He is sometimes joined by his son, Jimmy who is following in his dad's footsteps.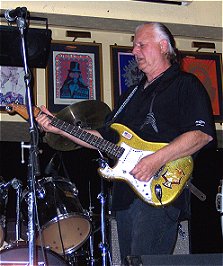 The Surfaris
Classic Surf Music played by original Surfari member Jim Fuller's band.


Northern California
Meshugga Beach Party
Meshugga Beach Party specializes in playing traditional jewish folk songs, surf style, with plenty of reverb and tremolo picking glissandos! I got to see them here in Southern California at the Huntington Beach International surfing museum. They are one of the best surf bands I've heard!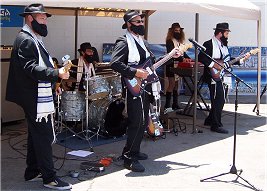 Around Santa Fe,
New Mexico:
The Motor Kings
When I saw them, they were hosting an open jam at Evangelo's
New Orleans:
Jeff Chaz
"The Bourbon Street Blues Man"
If you find yourself in New Orleans, look him up. He's a real fun showman.

Scottsdale/Phoenix,
Arizona Area:
Harolds Cave Creek Corral
This restaurant is in Cave Creek, Arizona, north of Scottsdale.
I'm not a country music fan, but there is something about hearing it live that gives it new dimension. We stop in every time we go to the Phoenix area. There's good S***-Kickin' music Thursday through Sunday. The food's good too!
This is also a good place to go if you're a Steelers fan. Yee Hah!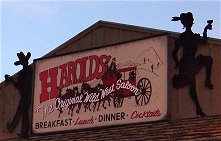 Char's Has The Blues
Voted the "Best Blues Bar In Phoenix" by The Phoenix "New Times" year after year.
They host a variety of blues and R&B bands. They will also bring in meals from Pizza City for you.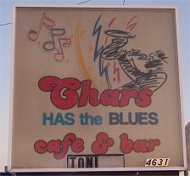 Soul Horizons
(no web site)
Very good Soul, R&B, and Blues band.
We saw them perform at Char's Has The Blues, where they perform frequently.
Chris Hiatt
Chris leads a popular Phoenix based trio that favors Stevie Ray Vaughan.
We saw him perform at Sugar Daddy's
He did this interesting thing, where he sang the Beatle's song, "Day Tripper" to the Chantay's "Pipeline".
His show also includes a Stevie Ray Vaughan tribute.
He did an acoustic set earlier in the day, which I missed, but will try to catch next time I'm in Phoenix.


Northern Arizona
Killer Wail
A surf band in Arizona of all places! I guess they'll be close enough to the ocean once "The Big One" hits here in California. If you visit their web page, you can see a video of them playing one of my and Paul Johnson's favorites, Mr. Moto ;-)
I saw them perform at Kactus Kate's in Cottonwood, AZ, not far from Sedona. In addition to the Surf covers that you usually hear, they covered some tunes I hadn't heard in years. They also perform some orginal tunes, and even did a little blues. It was a real fun evening!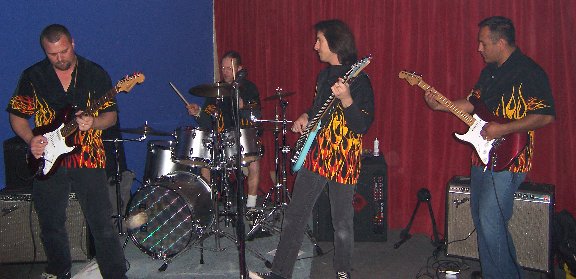 Ft. Myers, Florida Area
The Buckingham Blues Bar
Tommy Lee Cook took this dilapidated biker bar, in rural Buckingham, Florida, and renovated it into the "World Famous Buckingham Blues Bar". Tommy's band rocks, and there are also guest bands, open jams, and a monthly outdoor show in the bar's park like back yard (Check the web site's calendar). If that's not enough, you can also visit Bucky the mule, who lives behind the bar.